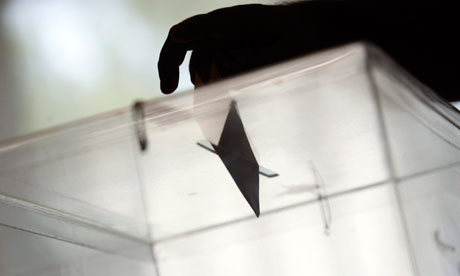 Democracy in God's economy looks a bit different than ours. We all go to the election booths and vote for a person. In God's realm He went to the sacrificing booth (cross) to elect all of us.
Yet, you get to choose ...
Let's see how this works.
Who shall lay any thing to the charge of יהוה's elect? It is יהוה that justifieth.

Rom 8:33
Eklektos?
The Greek word used here for elect is eklektos.
Eklektos has a special, broader meaning in the Greek. It means "carefully picked" (by the Hand of God). Thayer says it is to pick out, choose, to pick or choose out for one's self. WOW!
It is a reference
This word refers to Jesus, but it is also the word that Jesus uses when He refers to you and me when He says:
And then shall he send his angels, and shall gather together his elect from the four winds, from the uttermost part of the earth to the uttermost part of heaven.

Mar 13:27
Jesus is the First, the original
Elect
of God (
chosen out of God Himself
) from Whom we are birthed (
from above
).
Isaiah 42 gives a most beautiful description of the Original Elect and then the very same prophet goes on to describe us as the elect all over his book. Look at this ...
For Jacob my servant's sake, and Israel mine elect, I have even called thee by thy name: I have surnamed thee, though thou hast not known me.

Isa 45:4
He hand-picked you and even called you by name ... and surnamed you in Christ. You are surnamed Christian!
Isaiah explains about God's ELECT that:
... mine elect shall inherit it, and my servants shall dwell there.

Isa 65:9
... mine elect shall long enjoy the work of their hands.

Isa 65:22
And he explains why.
The same fibre - in His Image
The Word says we are hewn from Him.
Isa 51:1
Hearken to me, ye that follow after righteousness, ye that seek יהוה: look unto the rock whence ye are hewn, and to the hole of the pit whence ye are digged.

Isa 51:1
What should the elect do?
Make your choice for Him in your life and rest in the finished work of the One you were hewn from.
2 Cor 12:9
So, let's concur with saint Peter when he says that we,
the Elect according to the foreknowledge of יהוה the Father, through sanctification of the Spirit, unto obedience and sprinkling of the blood of Yahushua the Messiah have favour and peace and abundance.
1Pe 1:2
HalleluYAH!